Home
/
Higolot™ 2 in 1 Hanging Bird Feeder
With the arrival of spring, birds become more active, why not invite these lively and cute creatures into your garden? You only need a small bird feeder, and you can get the friendliness and trust of these feathered friends.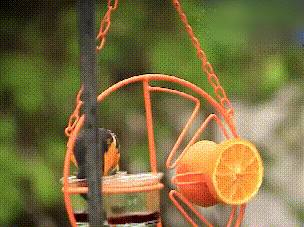 Features:
Attract more birds: The bright orange color is more conducive to being spotted by birds. The frame design is conducive for birds to stay and rest.
Two-in-one design: Two types of food can be placed for birds to choose freely. Plant seeds or worms can be placed on one side, and fruit pieces can be skewered on the other side to attract different kinds of birds to come and eat.
Convenient to watch: The feeder has a simple structure, which provides bird watchers with a wide field of vision and is convenient for observing various behaviors of birds
Natural decoration: Birds are people's friends. Installing such a bird feeder in your garden can attract a large number of birds and bring you closer to nature.
Specifications:
Material: Metal
Size: 18.2*42.5cm
Weight: 230g
Package includes:
1 * 2 in 1 Hanging Bird Feeder