Home
/
Higolot™ 3 Pcs Silicone Stretch Food Lids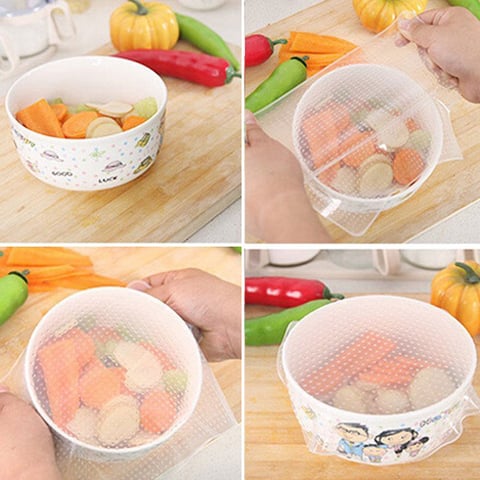 Features:
? MAINTAINS FOOD FRESHNESS - Prolong your dishes and ingredients' taste and quality. Our silicone wrap allows you to preserve your food's condition without using disposable and toxic plastic.
? PRIORITIZES HEALTH & SAFETY - Cover your fresh produce and cooked dishes to prevent them from being exposed to contaminants, moisture and harmful substances that can cause spoilage.
? EFFORTLESS MAINTENANCE - Our reusable silicone cover takes only a moment of your time to wash. They can be cleaned inside the dishwasher and stacked for space-saving safekeeping afterwards.
? RELIABLE & FLEXIBLE - This food storage can be placed inside the microwave up to 180°C and in your refrigerator as low as -10°C. The stretchable material allows universal covering for most types of bowls.
? BEYOND KEEPING FOOD SEALED - You can use our microwave plate cover as a slip-free table mat, drinks coaster, dog food container, beeswax wrap or pyrex lids replacement, and to open bottle covers.
Specifications:
Material: Silicone

Size: S: 10*10 cm; M: 14.5*14.5 cm; L: 19.5*19.5 cm
Package Include:
1/2/3 Set*Silicone Stretch Food Lids(S+M+L/Set)