Home
/
Higolot™ hignome Valentine's Day Gnome Rudolph Glowing Plush Doll
The Swedish Nisse(also known as the Tomte or Gnome) is a mythological creature from Scandinavian folklore. According to tradition the Nisse lives in the houses and barns of the homestead and secretly acts as their guardian. If treated well they protect the family from evil and misfortune.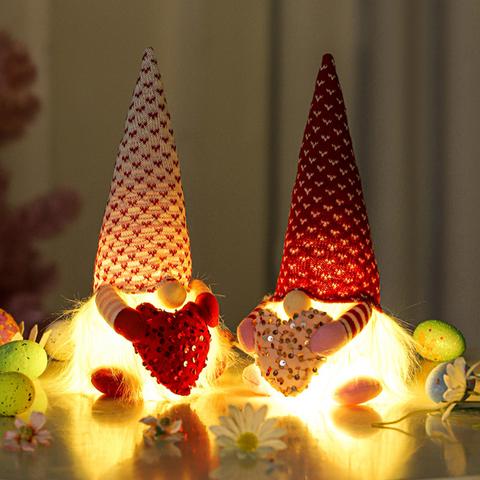 Futures:
THE FACELESS DWARF DOLLS BRING GOOD LUCK -They guard the home and protect people from misfortune. Gnomes are considered to be the charm of good luck. Therefore, it is an ideal choice for decorating houses and a great gift choice for friends and relatives!

LIGHTEN UP HOUSE: -The Gnome's body features a warm glowing LED light, powered by CR2032 button battery (not included), which adds festive warm atmosphere.

PERFECT DECORATION -These luminous dwarf dolls can be perfectly decorated indoors or outdoors, thus adding colorful scenery to various festivals and parties.

UNIQUE WARM GIFT - A beautiful gift with the meaning of luck. We can easily give this lucky gift to us on Valentine's Day, Easter, Thanksgiving, Christmas, weddings, birthdays, etc. Friends, children, lovers, parents. As a holiday gift, they can definitely win their appreciation.

SUPER CUTE HOME DECORATION -These goblins will be perfect for decorating our house and become part of our holiday tradition. Place them in our living room, such as desks, tables, sofas, bookcases, shelves, dining tables and beds. This dwarf will leave a deep impression. For most home decorations (such as tables, shelves), the size is perfect.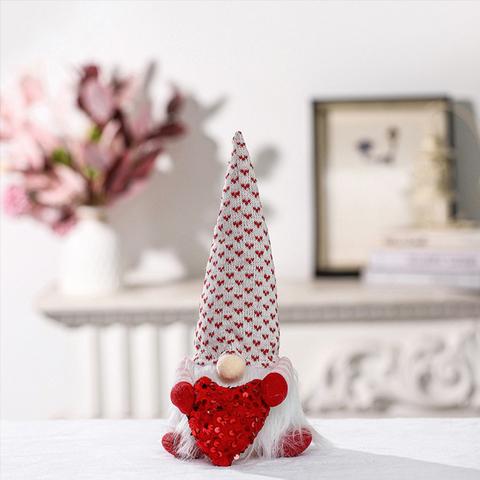 Specifications:
Material:His body and hat are made of soft felt, wool for nose, fiber for his long white beard, and a wire in his tall hat for posing! A weighted bottom makes him able to stand on his own.

Size:30cm high, 14cm wide at the bottom

Color:Red,White

Weight:100g

Powered by:3*CR2032 button battery(not included)
Package includes:
1*Valentine's Day Rudolph Glowing Plush Doll