Home
/
Higolot™ Kitchen Soap Dispensing Palm Brush
Are you still worrying about cleaning the kitchen?
There is such a convenient and hassle-free cleaning brush, Hurry up and give it a try!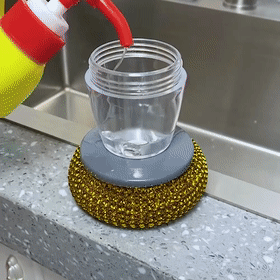 Features
Heavy-duty stainless steel sponge decontamination machine: Our scrubber has anti-rust function, which can remove stubborn stains, grease and dirt that have accumulated over time. Easily clean kitchen utensils, plates, pots/pans, very suitable for cars, household appliances, commercial uses, etc. The scrubber is very gentle on your hands and will not chip or scratch your skin. Easy to clean, durable, and can be used in dishwashers.
100% high quality, no musty smell, antibacterial: our scrubber is designed to improve traditional sponges in any way possible. In order to be cleaner and healthier, these scrubbers are odorless, safe and resistant to bacteria.
Scratch-free high-quality nanofiber material scrubber: Have you ever encountered a smelly ordinary sponge? Our product is scratch-free and safe for cast iron, non-stick pans and pots, glassware, plastic Tupperware, etc.
Built-in liquid storage tank: When cleaning, just press the top soft glue to drain the liquid. Pressure fluid-the cleaning fluid is not wasted, cleans smoothly, and is economical.
Advantages: convenient drainage, strong detergency, no sticky hands, no skin damage. No need to clean, save time and effort without hurting hands, powerful decontamination.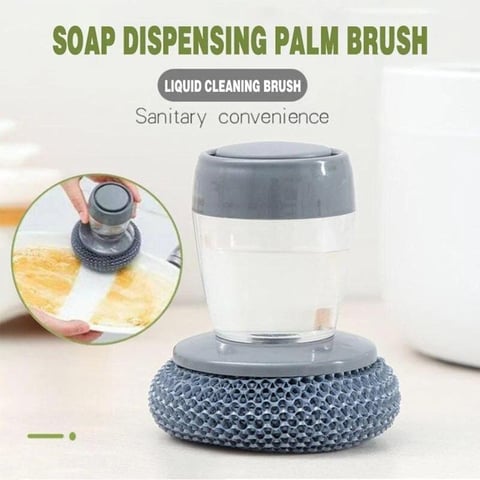 Specifications
Material: plastic + steel wire ball
Style: steel ball pot brush, PET pot brush
Color: gold, grey
Weight: 100 grams
Package includes
2*Kitchen Soap Dispensing Palm Brushes