Home
/
Higomore™ Bluetooth 5.0 Audio Receiver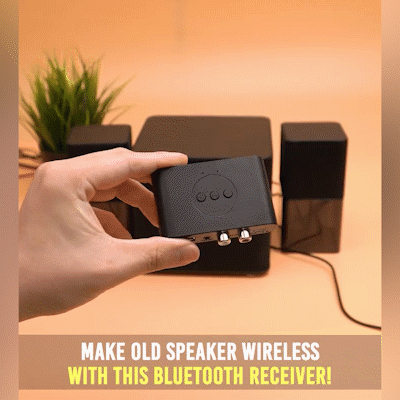 Features:
Plug and play
Streams music/audio from Bluetooth-enabled phones, laptops, and tablets to wired/non-Bluetooth speakers, stereos, and headphones wirelessly
Able to connect 2 devices (e.g. phone and tablet) - listen to music and make phone calls at the same time
Compatible with both RCA and AUX speakers
Enables the simultaneous connection of speakers/headphones to both 3.5 mm audio port and RCA audio ports
Reads and plays music from USB flash drives
Comes with 3 buttons - volume up, volume down, and play/pause buttons
Allows hands-free phone calls - answer/reject calls or redial with just one button
Smooth/fast transmission and strong/stable signal (reachable up to 10 m)
Supports voice navigation for GPS navigation apps
Functions immediately once it is connected
Automatically connects to the Bluetooth device connected previously
Compact and light
Specifications:
Material: ABS plastic
Size: 78 x 48 x 18 mm
Note: No built-in batteries. Powered by USB charging.
Package includes:
1 x USB Type-C charging cable